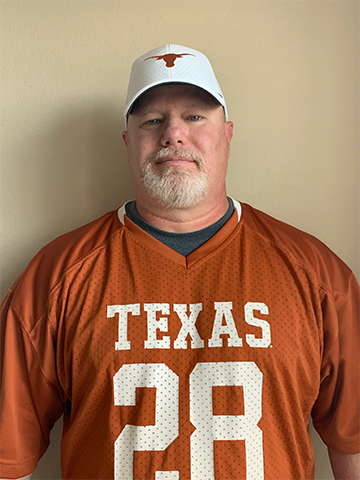 This year marks the 7th annual celebration of the US Small Business Administration's (SBA) National Veterans Small Business Week, an event that honors, connects and empowers veteran-owned businesses and entrepreneurs across the country. This important week takes place November 2-6 with the theme #VetBiz Resources in Your Local Community, aimed at highlighting no-cost to low-cost entrepreneurial resources – like the UTSA SBDC. In the spirit of this year's theme, we want you to know more about one of our advisors who is both a veteran and a valued member of the UTSA SBDC advising team.
If you read last week's newsletter or have attended a Start Smart webinar, you may recognize Senior Business Advisor Sam Morgan. What you may not know about him is that he is a highly-decorated veteran and dedicated supporter of veterans' business needs and success.
Sam joined the UTSA SBDC in 2016 and spends his time leading workshops, as well as advising a wide variety of small business owners and entrepreneurs. In addition to the workshops that he leads for the UTSA SBDC, Sam volunteers his time as an instructor of Business Plan and Business Model Canvas workshops with the SBA's Veterans Business Outreach Center (VBOC). The VBOC program is designed to help transitioning service members and military spouses with entrepreneurial and business skills.
There are several reasons Sam makes an extraordinary advisor, mentor and team member: beginning with a look at his military service. Sam served in the US Army from 1987 to 2012. During a 17-month tour of Iraq, Sam acted as Senior Intelligence Analyst and then went on to serve as Senior Operations Manager. Sam is not one to brag about his achievements, but he has been awarded numerous times for his service. In addition, while serving our country, he received his Bachelor and Master degrees in business administration. Upon his retirement from the Army, he joined Northrop Grumman Information Services as a database engineer and successfully developed streamlined solutions, which he continues to do for his clients and team members as a senior business advisor today.
When Sam chose to join the UTSA SBDC, he brought all of his leadership, advising, and business knowledge with him. Our small business clients and entrepreneurs now benefit from all of Sam's skills and acumen, which is a high mark for South Texas economic development.
Sam also shows his passion for his community through his avid love of the UT Longhorns (especially during college football season), his love and pride in his amazing Texan wife, three children, one step-child and three grand-children, and in his kindness in always being available to support his colleagues and clients.
As we celebrate our Nation's service members and their sacrifice, we encourage you to check out all the events available during National Veterans Small Business Week. You can still support the celebration, even if you're not a veteran, by sharing this article and the link to the Small Business Administration's VBOC page.
If you would like to make an advising appointment with Sam or any of our other advising team members, visit us at sasbdc.org or call (210) 458-2460.